Read about how the Salvation Army increased giver engagement and the number of email addresses by 29%. Also, discover the insight that changed the way they communicate with their donors. 
The challange for the Salvation Army: to renew and digitalize
The Salvation Army is present in more than 130 countries. They conduct assemly activities and various social work. The social work is aimed at different target groups and it can be efforts for children, women, young adults, homeless, unemployed, elderly and addicts.
The Salvation Army in Sweden has a turnover of 667 million SEK. Revenues come mainly from gifts and wills, collaborations, property management and profits from the second hand store Myrorna.
This customer case focuses on how the Salvation Army worked to increase revenue through gifts. To do this, the focus has been on reaching a new target group and increasing the engagement of current donors.
Some of the challenges:
1. To communicate via digital channels.
One challenge for the Salvation Army was to inform, engage and communicate using modern channels, such as social media. Everything pointed to the fact that the Salvation Army's target group wanted a more digitized experience. For example, donation done digitally doubled in 2018 compared to 2017.
2. To communicate personally and relevant to excisting donors.
The Salvation Army often receives multiple donations from those that have given before. Therefore, it was important to increase engagement by communicating relevant and personal to that target group.
3. To help donors give to specific purposes.
Through surveys, it emerged that donors rather give money to a specific purpose, than to a general one. Therefore, it has been central to help donors to give to specific causes. such as abused children, homelessness, loneliness, natural disasters or addiction.
To increase engagement and revenue through gifts, the Salvation Army chose to use data and technology. This enables a personal, yet automatic, communication and that the right message gets delivered in the right channel at the right time.
In the upcoming section, you have the three steps the Salvation Army took to find new donors, increase engagement among existing donors and to communicate more personally and purposefully.
STEP 1: COLLECT LEADS
The Salvation Army website in Sweden has about 36,000 visitors each month. In the past, there were forms where visitors could submit their email adress, but they weren't very visible.
What the Salvation Army did to increase the number of email adressses was to:
Set up a pop-up on the website
Change the messaging in existing forms
Advertise with so-called lead ads on Facebook
This increased the number of email addresses by 29%. This meant that the Salvation Army got thousands of more email addresses to potential donors – a good step on the road to helping more!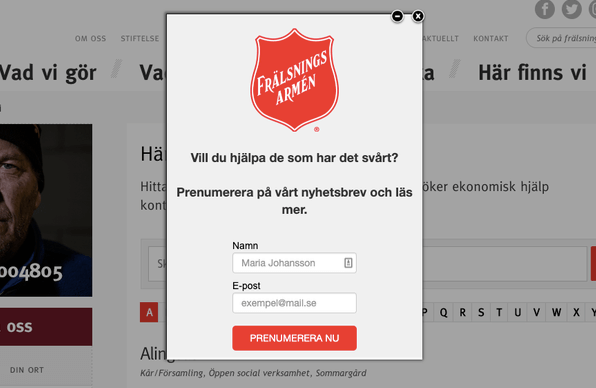 The pop-up on the Salvation Army website
STEP 2: GET TO KNOW THE TARGET GROUP (AND SEGMENT BY INTEREST)
Once the Salvation Army set up a process to collect leads, they chose to focus on their current donors. More specifically, they wanted to find ways to engage those that gave once and create incentives to get them to give again.
They started by creating segments based on the purpose the donor previously donated money to. By segmenting based on interest, they can send communications based on this. For example, someone who is passionate about abused children or natural disasters then gets relevant communication linked to this – and is not overwhelmed by all communication.
STEP 3: EXPAND TO MULTIPLE CHANNELS
That we spend a lot of time with our mobiles and computers is nothing new. In order to be part of the donors' everyday lives and increase their commitment, the Salvation Army chose to communicate via more channels.
Previously, the Salvation Army sent letters and SMS to its donors. Since they wanted to reach a younger target group, they chose to personalized their communication in email and SMS, and to expand the channels they reach their target group with. For example, Facebook is used for retargeting.
In addition, various messages have begun to be tested and communicated via so-called web push. Then you also reach people who do not use or read their email, but who nevertheless have shown interest. On average, about 10% of the target group click on notifications via web push.
They also continue to send out SMS, and plan to start segmenting based on interest in order to send a more relevant message based on the purpose the donor is interested in.
By collecting more leads, segmenting the donors based on interest and communicating to them in the channel they are using – the Salvation Army has managed to increase the engagement and interest of their donors.
THE JOURNEY TO HELP MORE, THROUGH DIGITAL RESOURCES, HAVE ONLY BEGAN.
The challenge of the Salvation Army was to reach a younger target group, to communicate more personally and to increase donations by communicating based on interest. The number of email addresses has increased by 29% and donors are starting to receive interest-based communication in the channels they are using.
Data and technology should always be an aid and this is an example of how technology can help reach more people, increase engagement and ultimately – contribute to a better world.
Want to donate money to the Salvation Army? Click here.