Learn how the Swedish football club AIK generated over €100 000 through a relatively simple campaign.
It would feel good, right? 
To be able to generate €100 000 through a relatively simple campaign. A campaign that can be reused, year after year, without having to put too much work in.
Also, take into account that the campaign is highly targeted – which means that the recipient will feel seen, valued, and taken care of by you as the sender.
Win-win, right?
This may sound like a dream scenario for many. But thanks to the technology available today it's highly doable. And it doesn't have to be complicated.
To help you with this, we'll take you through how the Swedish football champion AIK managed to achieve these results with the help of marketing automation.
AIK's goal: to strategically develop the supporter engagement
Football clubs know the importance of engaging with their supporters. Therefore, in November 2018, AIK chose to enter into a partnership with Data Talks, to make a digital investment in marketing automation.
The purpose was simple: to strategically and digitally develop the supporter engagement.
A short time after the implementation, the first two campaigns were launched. One generated a 79% increase in the number of subscribers in AIK's paid video channel. The second campaign aimed at increasing the conversion rate with personalized offers by selling hard-to-get-rid-off supporter merchandise and this also got fantastic results. It was the most successful campaign launched so far!
In other words, the football club is on track when it comes to what one of the biggest daily Swedish newspapers, Svenska Dagbladet, wrote November 29 (in conjunction with the Data Talks partnership): 
"Now AIK Fotboll will become Swedish champions also online".
The football club is now sharing, step by step, how they succeeded with their third marketing automation campaign.
Step 1: Defining the campaign (increase sales of season tickets)
With two successful campaigns done in the past, AIK chose (at the beginning of 2019) to run a third campaign. This time, the focus was on increasing the conversion rate of season tickets.
The campaign was designed to target those that were season ticket holders in 2018, but who had not yet purchased it for 2019. AIK has hundreds of thousands of contacts in their register and this campaign targeted about 2% of them.
The ambition of the campaign: to get as many people as possible to buy a season ticket in 2019.
Step 2: Segmentation of customers (family supporters or ultras?) 
With the campaign's purpose and target group defined, the focus shifted to segmenting the supporters for a more personal tone of communication. An alternative here is to send the same email to all contacts, but then the recipient will not experience it as very personal.
In addition, different target groups have different reasons to buy a product or service. A fan standing in the ultra sector ("Norra stå"), probably buys the season ticket for the feeling of standing in the crowd and chanting for 90 minutes. A family section supporter, on the other hand, might buy their ticket to support AIK's future and to create memories with their children.
This is one of the benefits of marketing automation: you can easily segment your contacts based on their behavior, region or other information you have about your customers.
To be relevant in the campaign, AIK chose to divide the contacts into three different segments. The segments were selected on the basis of the ticket type the supporter had bought the year before. 
Here were the three segments:
Long-stand

Family section

Ultra sector ("Norra stå")
The three segments received three different emails. The main message was the same (buy a season ticket for 2019), but the tonality differed.
For example, a person who watches the AIK's matches with their children has different needs and desires than a person who has chosen a ticket in the ultra sector "Norra stå".
Below you see parts of the email that went out to the contacts in the family section:
As you can see, the picture shows a child supporter. AIK also highlights how the family section is a great place for both adults and children. This email is great for a family supporter, who wants to know that both their children and they will enjoy themselves.
How was it then communicated to the ultra sector ("Norra stå")? Below you have parts of the reminder email that went out: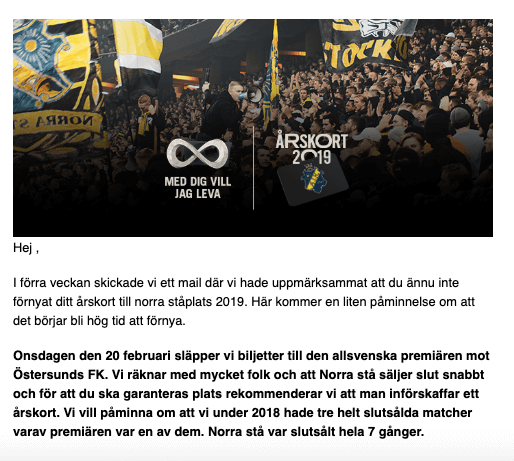 Again, both the image and the text are adapted to the segment. There is no mentioning about "Gnagis" (the AIK's mascot) or about the newly opened Taqueterian that offers delicious Mexican food for the whole family.
Personal communication not only creates a stronger connection to the recipient – it has also been proven to increase the conversion rate by 6 times. 
It is therefore much more efficient to adapt your communication based on the person you're talking to. And as you can see above, this doesn't have to be complicated.
Step 3. Send out (via email and SMS) and the results
How did AIK choose to set up the campaign?
First, three different emails were sent out to the three different segments. (Long stand, family section and the ultra sector). Here, the supporters were being invited to purchase the season ticket.
The result of the first email was a conversion rate of 9%, which was considered very successful!
After seven days, reminder emails were being sent out to those that had not yet purchased the season ticket. Again, three different emails were being sent out to the three different segments.
This resulted in a conversion rate of 5%.
To those that didn't purchase a season tickets via email, a text message was sent out a few days later. This is another advantage of marketing automation: email can sometimes end up in the spam mail or if the person is on vacation and doesn't check their email, he or she might miss the offer. Then another channel, such as SMS, can help to reach the person.
After another couple of days, an additional SMS was sent out to those that had not yet made the purchase. Those who didn't buy a season ticket, neither via email or SMS, were later contacted by AIK's customer service. 
With marketing automation, much can be automated, which means that less human work is involved, while the recipient gets a highly personal experience.
The end result? Satisfied supporters and a successful campaign
Thanks to marketing automation, you can make sure to reach the right person, at the right time, in the right channel, and with the right message. In other words: the possibilities are endless! 
Getting started with marketing automation doesn't have to be complicated. As you can see above, it is about defining what you want to achieve and who your target group is. Then you simply segment the target group, so that you can send more targeted communication.
In this campaign, AIK created a total of 6 emails and 6 text messages. All in all, the work of setting up the campaign took about 15 hours and, as you already know, it generated over €100 000.
This was an example of a campaign targeting about 2% of AIK's database. In the future, the football club plans on creating even more targeted, relevant, and timely campaigns to continue developing their supporter engagement. This can be, for example, loyalty programs, selling last minute tickets, or combining ticket sales with merchandize.
Is it then worth spending time, money and resources on digitization and marketing automation?
Well, if you have at least a few thousand contacts and you want to be more relevant to your target group, increase revenue and lower costs, then the answer is obvious: yes.
*According to the Boston Consulting Group (BCG) , companies that communicate meaningfully can increase their marginal revenue by 20% and lower their costs by 30%.