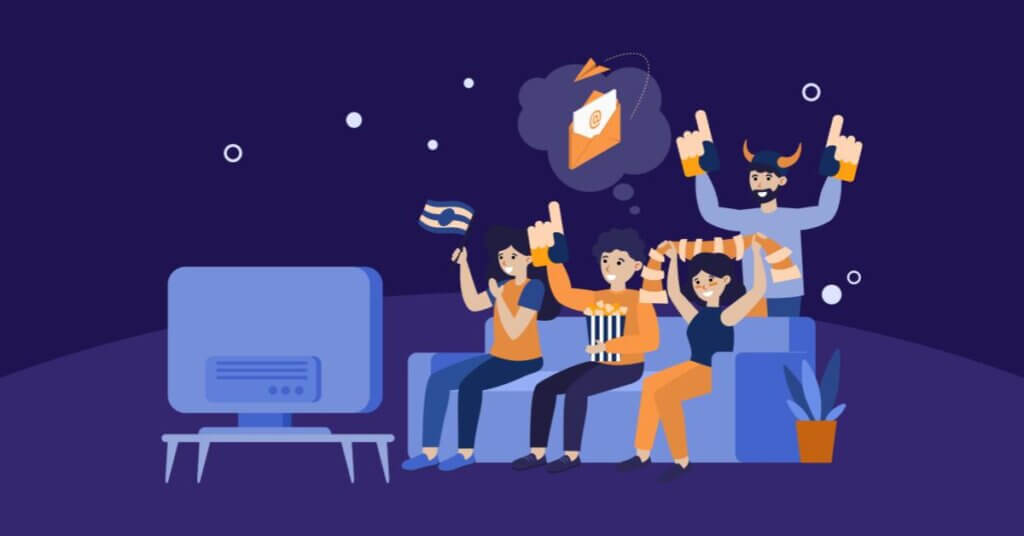 The main sports season is starting soon, so you want to create a campaign. You aim to sell as many tickets as possible, if not all of them. While your marketing efforts have never been the worst, they have never been the best either. Fortunately, we have the answer to how you can create the best marketing campaigns ever to help you meet your organization's goals. That answer is: hyper-personalizing fan experiences. In "Hyper-personalizing fan experiences in sports" we offer you an in-depth explanation of just that.
Read until the end (and thank us later) to understand how important this is to your future marketing efforts, starting with the ones you are working on today. 
Continue reading if you want to: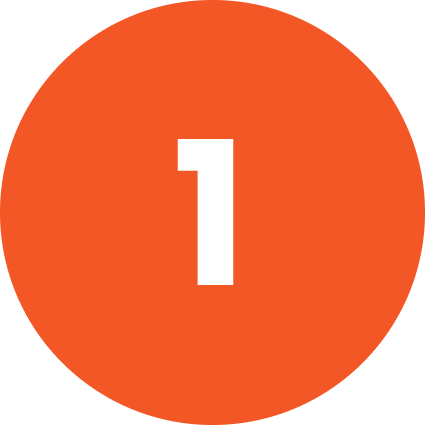 grow your sports organization;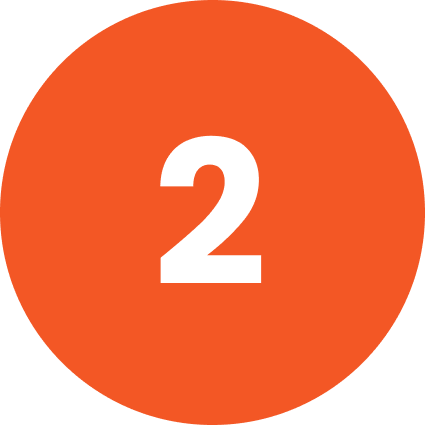 grow it in a sustainable way i.e., grow for longevity.
Before we dive right in...
Subscribe to our blog today to ensure that you never miss valuable posts such as this one. We are passionate about helping sports organizations deliver a world-class fan experience, because better fan experience means better business. So why not use this opportunity to the fullest?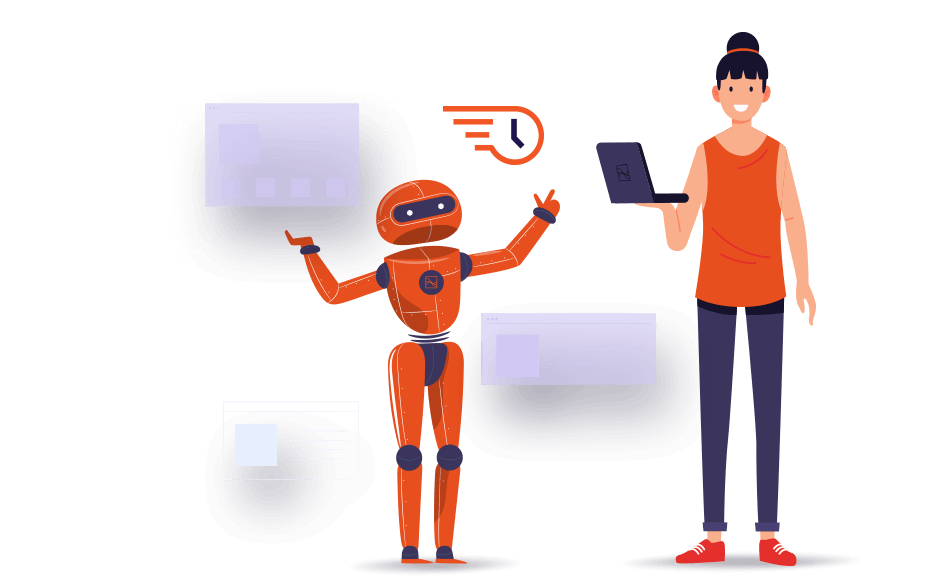 What is hyper-personalization?
Hyper-personalization is simply creating tailored, customized, and targeted sports experiences to meet your individual supporter's preferences and interests. This is ultimately done to send:
the right message 

to the right fan 

at the right time 

through the right channel.
Hyper-personalizing fan experiences in sports can be achieved through the use of data, analytics, AI, and automation. 
You might read data, analytics, AI and automation and feel intimidated. Perhaps you are worried about how expensive it might be to get it all going. Or even how long it might take to get started. Don't worry. We know a highly effective software called a sports customer data platform that can help you create all of this hyper-personalization as soon as possible (you can start the process today) and at an affordable price.
If this is something you have been thinking about prioritising and would like to start the process today, then jump over to explore our demo now. You will be provided with tutorials on how to get everything going, so you don't need to be an IT specialist or have exceptional data knowledge to start getting results for your organization today.
However, if you leave now, make sure you come back to the post so you can have all the information you need to feel empowered in your hyper-personalization journey. 
Now back to the post ….
The best thing about hyper-personalization is that it has been proven to work. Want to know how? Well, keep reading. We promise you it will be worthwhile.
And here are the 3 simple reasons hyper-personalizing fan experiences in sports is the key to growing your sports organization for longevity
 Hyper-personalization: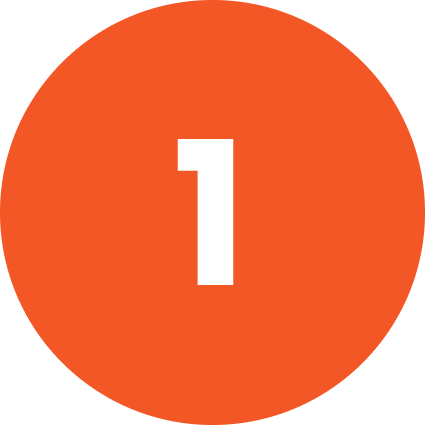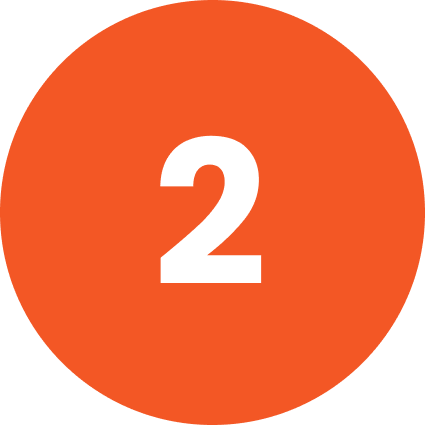 increases supporter lifetime value;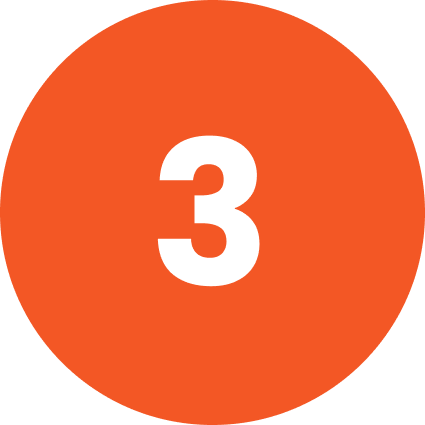 drives marketing effectiveness.
Different types of fan experiences in sports
Before we dive right into why hyper-personalizing fan experiences in sports works, let's discuss what exactly fan experiences in sports are so that we are all on the same page. 
Whatever interactions your fans have with your organization is an experience. From hearing about your team to attending your team's games to what they do after the game – these are all experiences. 
Here are some examples:
buying your merchandise in your physical or online store

consuming your sports content online or in-stadium

receiving emails and SMSes from you

receiving your newsletter

buying food in-stadium during a match

engaging with you on social media
…the list goes on and on. But don't let this intimidate you.
What's important to realize is that while there are many aspects to your supporters' experiences, the good news is, you have complete control of the output of those experiences. For example, you can provide relevant and curated content, tailor in-app experiences, and engage with your supporters online. That is why we emphasize hyper-personalization as the best strategy for growing your organization for longevity in this blog post.
So what are the reasons for hyper-personalizing fan experiences in sports?
1. Increase revenue
There are many different sources of revenue in sports. Beyond ticket sales, we have sources such as sponsorships, merchandise sales, and broadcasting rights, amongst others. So, your organization might have more revenue goals beyond increasing ticket sales. For example, you might want to sell more merchandise. You might additionally even want to increase your current sponsorship value. No matter your aim, hyper-personalization can significantly boost all these four revenue streams.
Let's look at the numbers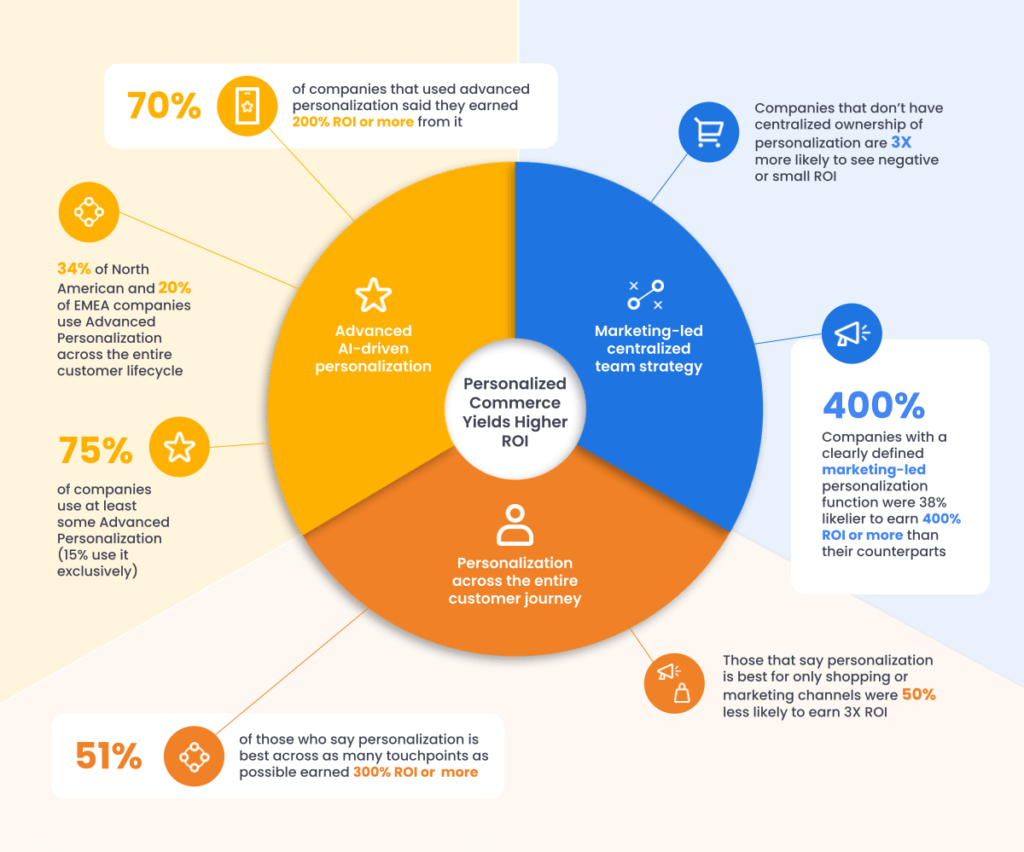 Note:
Commerce simply means the activity of buying and selling, especially on a large scale. So do not let the word make you think that this does not involve the sports industry. And if you think about it, commerce, that is, buying and selling, is the basis of your business.
Now back to the numbers…
How crazy are these numbers?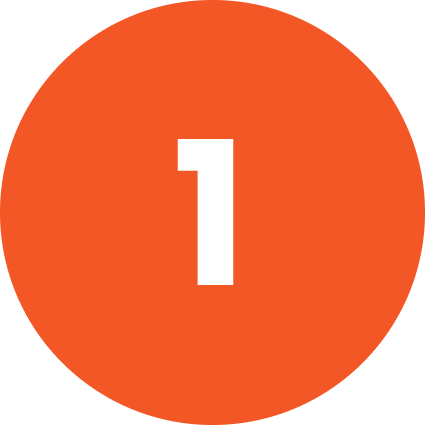 51% of those who say personalization is best across as many touch points as possible earned 300% ROI (return on investment) or more;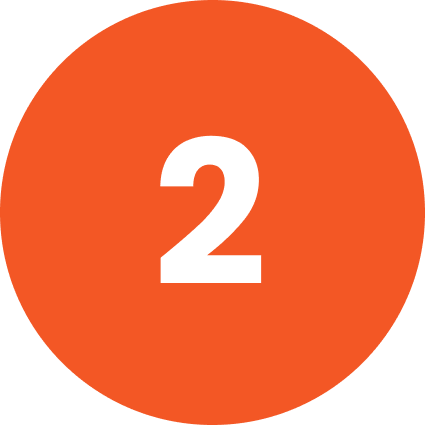 Companies with a clearly defined marketing-led personalization function were 38% likelier to earn 400% ROI or more than their counterparts;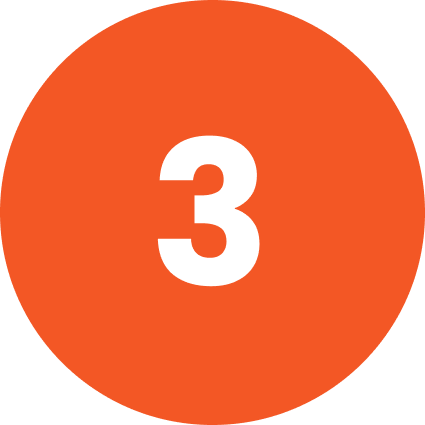 Companies that do not have centralized ownership of personalization are 3X more likely to see negative or small results.
Clearly, from these statistics, not having a personalization strategy in place will also affect your ROI. For this reason, it should not only be the advantages of hyper-personalizing fan experiences in sports that encourage you to act today. The dire consequences of not personalizing should also inspire you.
What AIK's personalization success story can teach us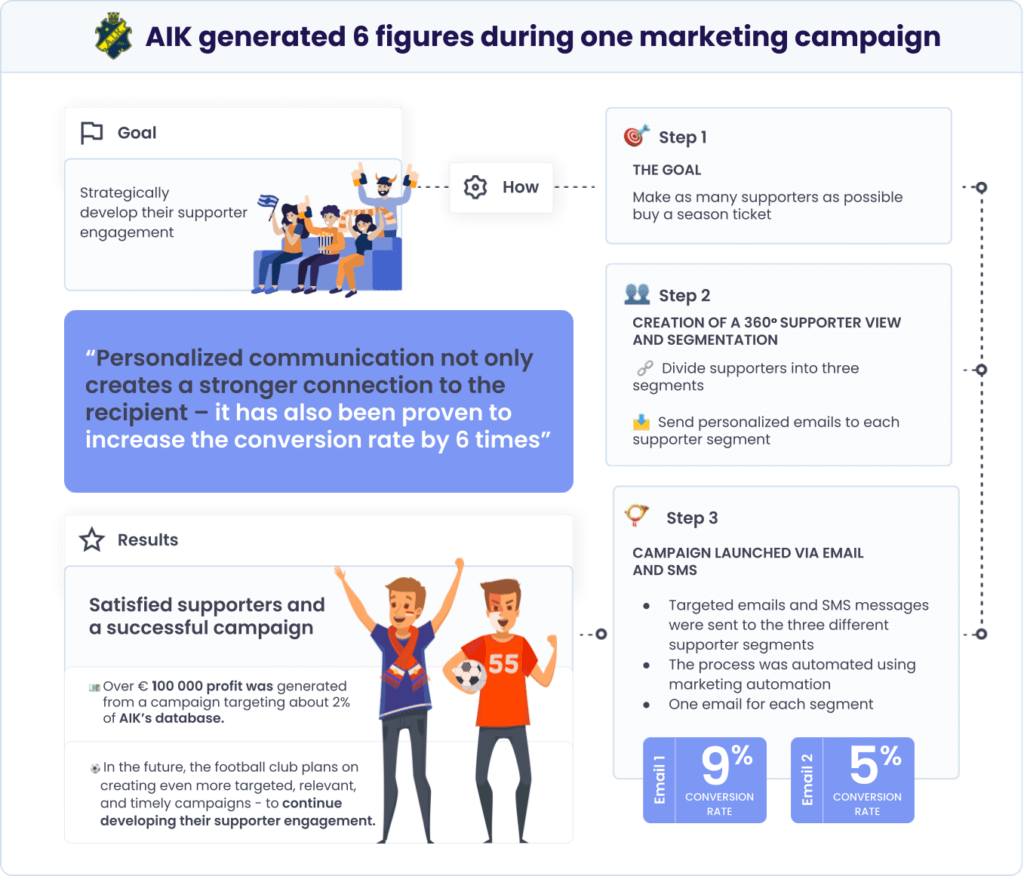 We don't just talk a good talk, we can put our money where our mouth is. This is why we can gladly share this success story and give you more nuanced tips for getting you started on your "hyper-personalizing fan experiences in sports" journey today.
Some key takeaways from this story
So here's a summary: AIK, a football club competing in the top league of Swedish football, decided on a goal: to strategically develop their supporter engagement. They targeted only 2% of their supporter base but still managed to yield €100 000 profits. They used email to communicate with their target group, and all of this was facilitated with our DataTalks Sports CDP.
What does this teach you about hyper-personalizing fan experiences in sports?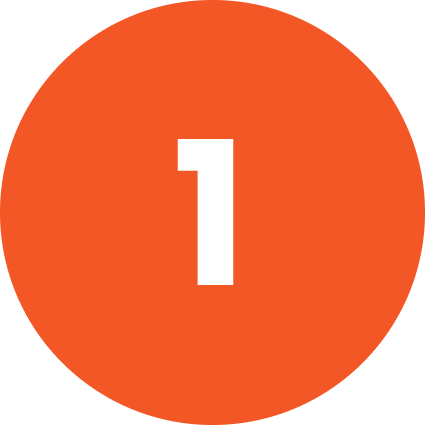 First, you need to decide your campaign goals now so you know what you want to achieve.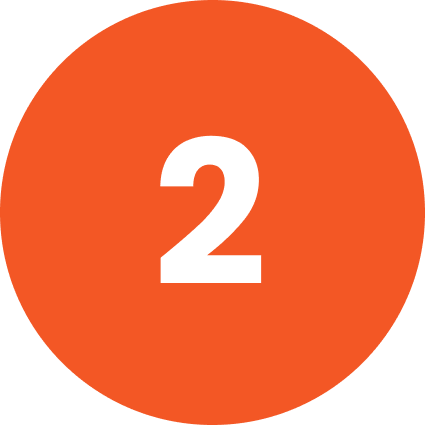 Then, you need to get the right people involved who can help you achieve your goals.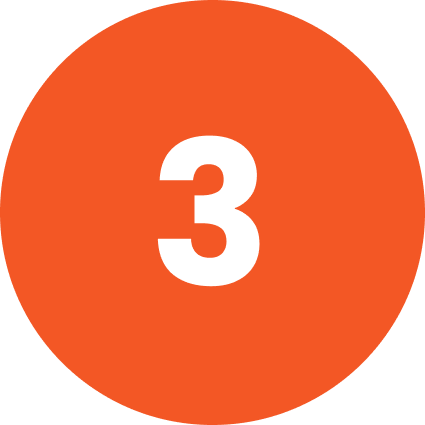 You do not have to start large to yield a large profit (AIK only targeted 2% of their supporter base).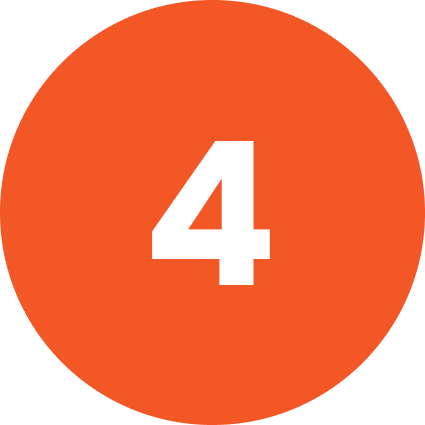 Hyper-personalization does not only meet your explicit goals but also your implicit goals. For example, AIK's goal wasn't to generate more profit, it was to strategically improve their supporter engagement. But of course, making a profit is any organization's ultimate goal.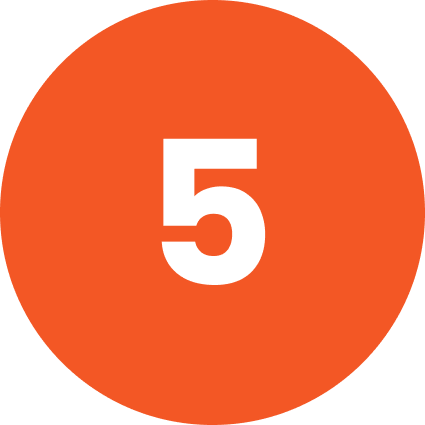 The time to act is today - start where you are, with what you have, and build from there onwards. As the numbers have already proven, waiting is a losing strategy.
Find out more about our sports CDP
and get answers to questions like, what are the benefits of using a CDP, what differentiates a CDP from other systems, and how to calculate the CDP ROI by reading our
Ultimate Sports CDP guide
. The more you read the more confident you will become about heading down this path.
Increases your supporter lifetime value
We human beings are emotional creatures, and that includes you and me. We don't simply buy things and experiences because they are the logical thing we need. On the contrary, we engage in whatever connects with us emotionally. This human characteristic is what makes doing sports such a joy. Sports experiences go beyond just buying and selling. They hence give us (and your supporters) an identity, a sense of belonging, hope, and something to look forward to.
So let's just visualize this for a second…
Mark is your number one supporter. He has been to every single one of your games. Regardless of whether you were winning or losing, Mark was there. He rallies all his friends and family on social media to support your organization. In fact, he has often brought them to in-stadium games where they would also buy merchandise and purchase food. Mark is the epitome of the best fan a sports organization could ever ask for. Despite all this, Mark:
receives generic emails from your organization

has never received any type of personalized discount or bonus 

does not get personalized sports content on your app or website
Mark is a diehard fan, so he would never consider leaving. But did you know that, in today's competitive digital landscape, Mark is a rarity that should not be counted on? 
In our previous blog post, we discussed changes the sports industry is facing, and one of them is a new supporter demographic: Generation Z. Gen Zers would never have the patience of Mark. Gone are the days where people just loved sports and had very minimal expectations for sports organizations.
In fact …
According to Oracle, a whopping 67% of avid sports fans in 8 countries, including the US, UK, and France, said they do not own season tickets or membership for an individual team. A key attribute that contributes to sports fanatics' satisfaction is: the team provides timely, relevant in-event highlights and statistics I want to see on my mobile device based on my interests.  Below are more attributes to consider from Deloitte
Why are these statistics significant? Because they reveal sports fans' expectations. But they also tell us that nowadays sports fans need more convincing to become loyal to your organization.
How can hyper-personalizing fan experiences in sports help increase supporter lifetime value?
Firstly, hyper-personalization helps improve engagement and overall fan experience (as discussed earlier in the post). But secondly, when a supporter is satisfied, they have no reason to leave. Last but not least, you want to use hyper-personalization to keep your supporters happy so they do not leave in favor of another organization. Because one thing is certain: recruiting a new supporter can cost up to 5X more than retaining an existing supporter. 
Ultimately, hyper-personalizing fan experiences in sports helps you keep fans for as long as possible while having them engage with the club as much as possible. Moreover, hyper-personalization is a way of letting your supporters know that you see them and appreciate them (we are emotional beings, remember?). In turn,  they will give you their loyalty and support. Therefore, each of your fans will have a high lifetime value for your organization.
Hyper-personalizing fan experiences in sports drives marketing effectiveness
Hyper-personalization promises to help you deliver the right message to the right supporter at the right time through the right channel. That is the epitome of marketing effectiveness. Gone are the days (or they should be gone at least) where marketing was more about pre-empting, guessing, and hoping for the best. 
Here's a summary of how hyper-personalizing fan experiences in sports drives marketing effectiveness:
Engagement data from your hyper-personalization campaign will let you know whether you are doing something right or not quite. Whatever the results, you will have enough data to steer you in the right direction.

You will have reduced costs, not  focusing mainly on retention than recruitment. 

You won't annoy your supporters by sending them generic content, so you are not losing them because of that

Hyper-personalization will give you a better understanding of your supporters and what they want the more they interact with the content.

You will save time (no guesswork, just using data).
However:
This is all contingent on using the right tool to support your hyper-personalization efforts. Hyper-personalizing fan experiences in sports is impossible without a sports CDP. Remember the AI, automation, data, and analytics that we mentioned at the beginning of the blog? Well, all of these functions are incorporated in the sports CDP.
Conclusion
In conclusion, hyper-personalizing fan experiences in sports should be the number one priority of any sports organization. With benefits such as increasing all types of revenue, increases in your supporter lifetime value and making your marketing efforts more effective – hyper-personalization is a no-brainer. But why do some marketers choose not to use this to their advantage?
Hurdles to hyper-personalizing fan experiences in sports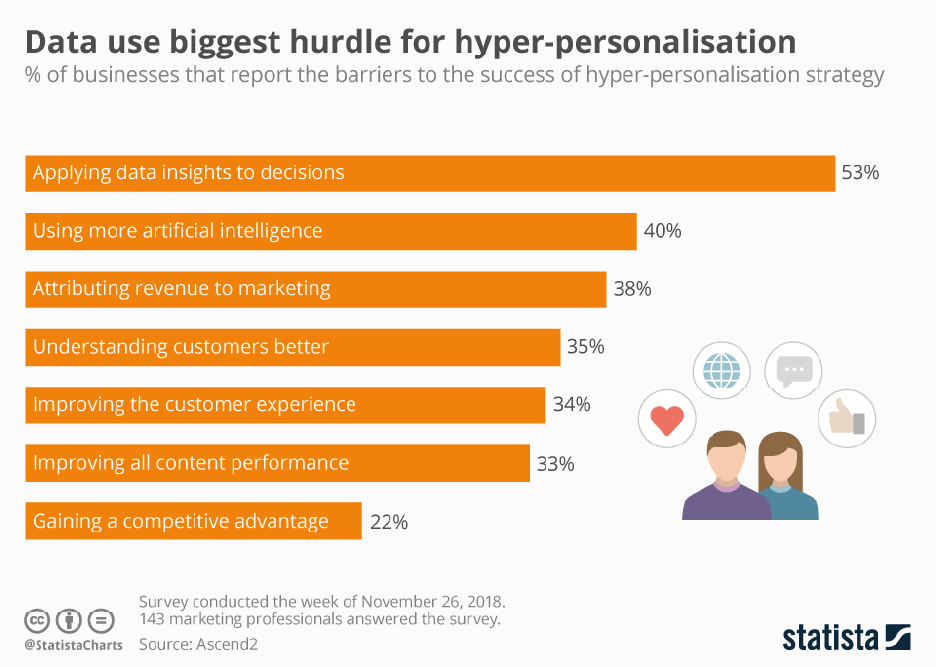 Because they find data usage to be a big hurdle. However, a sports CDP will make your life easier and give you a competitive advantage. That's because:
The data in our sports CDP is visualised in simple to understand dashboards. You, therefore, do not need to have a particular degree to make sense of your data. This will help you …

…apply your data insights to decision-making easily – something that 53% of marketers struggle with. 

You can share your data with other systems, such as a CRM system, which will help you use artificial intelligence to your benefit. 40% of marketers struggle with this, so our aim is to make your life easier.

A sports CDP helps you set concrete goals and KPIs, ensuring that you can concretely attribute revenue to your marketing efforts. This will give you great credibility within your organization, so you won't be like the 38% of marketers who struggle to attribute revenue to marketing. 
All these problems are solvable with one simple tool – a sports customer data platform.
Action to take towards finally hyper-personalizing fan experiences in sports today
Start your journey with us. You can do so by simply exploring our demo. The best time to act is indeed today while everything is fresh in your mind. This will let you take the theory and put it into action.
P.S And the best part is that our demo is free of charge, so use this to your advantage.
Remember: the longer you avoid hyper-personalization, the more you stay 3X more likely to see negative or small results when it comes to your ROI.