The waiting is finally over! The puck has been dropped. The opening of the HockeyAllsvenskan season, celebrated as "SuperFredag," was nothing short of a magnificent spectacle.
An impressive total of 29,828 supporters attended seven games, generating an average attendance of 4,261 per game. What's more, three out of seven games were sold out! This astonishing turnout is a testament to the intense passion that fans in Sweden hold for ice hockey. It also marked a new era for the league.
Before we dive right in...
Subscribe to our blog today to ensure that you never miss valuable posts such as this one. We are passionate about helping sports organizations deliver a world-class fan experience, because better fan experience means better business. So why not use this opportunity to the fullest?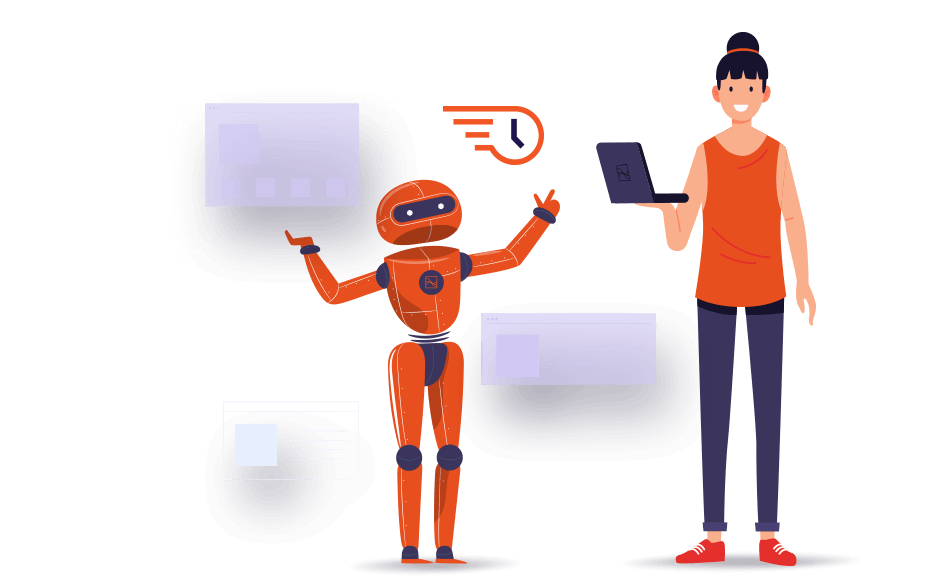 HockeyAllsvenskan: A pillar of Swedish hockey excellence
Despite being Sweden's second highest professional hockey league, HockeyAllsvenskan is considered the country's third most popular sporting competition. It is an important stepping stone for players aspiring to reach the elite level. The league boasts a rich history, nurturing talent and thrilling fans with top-notch competition.
Since its introduction in this format in 1999, HockeyAllsvenskan has been a key factor in the success of Swedish hockey. As a vital platform for young players, the league has witnessed great talent and historic moments.
How HockeyAllsvenskan Works?
It consists of 14 clubs from all over Sweden. The league is a round-robin tournament where all teams play each other four times during one season: twice at home and twice on the road. This amounts to 52 games per team and 364 games in the regular season.
The playoffs follow the regular season. Teams ranked 1 to 6 are directly qualified for the quarterfinals, while teams ranked 7 to 10 compete for the remaining two spots. The quarterfinals are played in a best-of-seven format, with the higher-ranked teams having home advantage. The same applies to the semifinals and the final. The final winner qualifies for the SHL (Swedish Hockey League).
In the 2022/23 final, MoDo Hockey defeated Djurgården in the seventh game, securing their place in the SHL this season.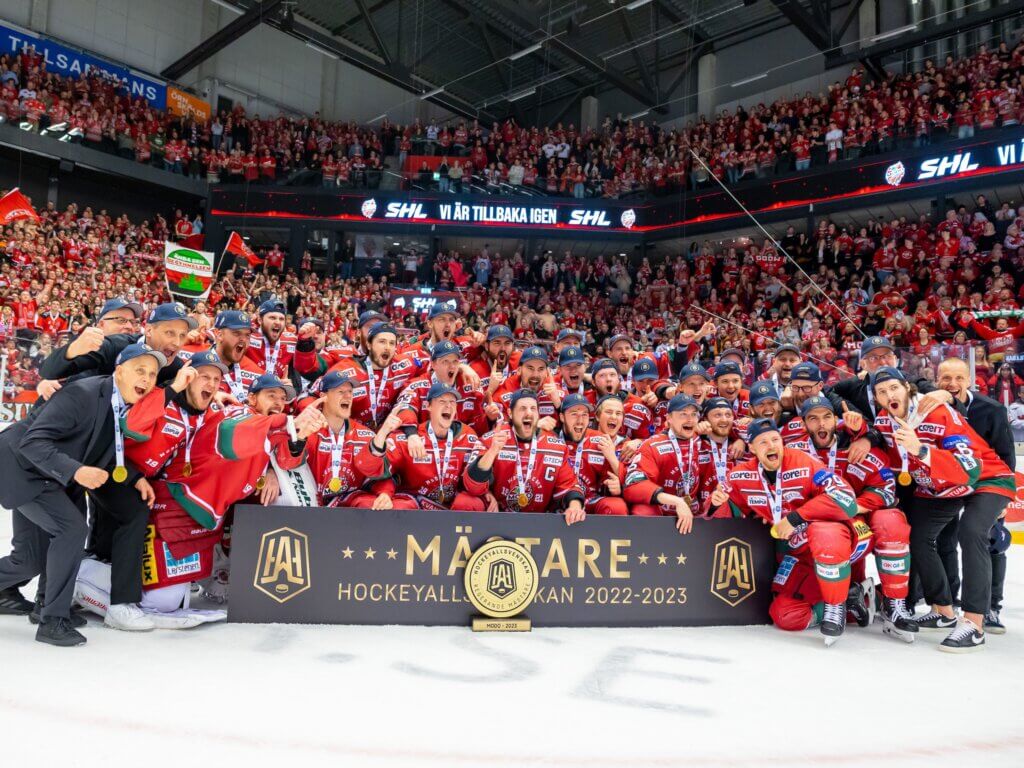 Historical hurdles: HockeyAllsvenskan's past challenges
HockeyAllsvenskan and its clubs have faced several severe challenges in the past. The first and most important was the inability to increase average attendance. They also aimed to tap into the potential of the consumer market and shift focus from B2B.
One of the ideas was to help clubs learn how to run their own campaigns and become independent. And, of course, to increase the number of contacts and learn more about fans.

Data-driven strategies in HockeyAllsvenskan were needed to improve fan experience and help clubs increase revenue.
Transforming the HockeyAllsvenskan experience: The Data Talks partnership
In 2021, HockeyAllsvenskan joined forces with Data Talks to overcome these challenges and revolutionise the fan experience.
"At the beginning, we wanted to try out the potential of the customer data platform," explains Gabriel Monidelle, the CEO of HockeyAllsvenskan. "We started with one club as a pilot, and the results were impressive. Then we decided to partner with Data Talks and provide all the clubs access to the platform. This led to significant improvement. Clubs increased ticket sales and averaged revenue. But, most importantly, clubs learned how to understand their fans."
Key achievements were impressive. HockeyAllsvenskan clubs increased their contactable fan base by a whopping 70.2 per cent!
Data-driven strategies in HockeyAllsvenskan led to an impressive 24.6 per cent surge in average attendance.
Leveraging data led to higher attendance in less attractive games. However, even the playoffs witnessed an expansion, with a 16.7 per cent higher attendance.
"These numbers were eye-opening for us. The clubs learned how to understand the importance of data. They learned to use segmentation and data-driven strategies," says Monidelle.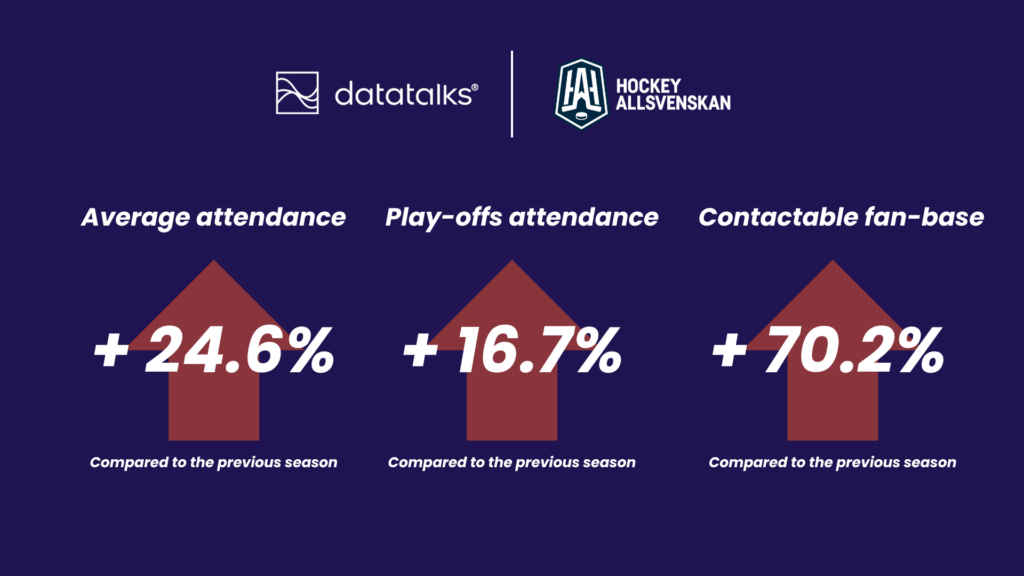 Empowering clubs and celebrating success stories
The collaboration with Data Talks empowered HockeyAllsvenskan's clubs, providing them access to a centralised system, training, and best practices. We created a shared marketing dictionary and identified specific target audiences. Clubs learned how to use segmentation and personalised messaging.
For example, Björkloven, an ice hockey club from Umeå in northern Sweden, wanted to maximise ticket sales for every game. Using Data Talks CDP they created 35 unique segments and tailored more than 30 campaigns. The results were fantastic.
Björkloven increased their ticket sales by 22 per cent compared to the previous season. They had an 18 per cent surge in matchday revenue. Moreover, they had a 73 per cent above-expected performance in less attractive games.
In a more concrete example, MoDo Hockey structured its campaign to sell tickets for an upcoming match. Utilising the advantages of the Data Talks customer data platform, they targeted the fans present at the previous game but hadn't bought a ticket for the next one. This directly led to over a 38 per cent open rate and an impressive CTR of 2 per cent. It also generated over €10,000 in ticket sales profit from a single match!
MoDo Hockey won the league and qualified for SHL. They also decided to continue to work with Data Talks in the upcoming season in the Swedish hockey elite league.
Paving the way for continued success
Looking ahead, HockeyAllsvenskan aims to enrich fan engagement and revenue streams further. The plan is to grow club databases and implement innovative data-driven strategies in HockeyAllsvenskan. This will lead to bolster ticketing, merchandise, and sponsorships.
The league is poised for continued growth and success, with nearly 10% of Swedish households in their database.
The journey of HockeyAllsvenskan has been one of relentless determination to elevate the sport, nurture talent, and create an electrifying fan experience. As the league looks back at its rich history and embraces today's technological advancements, one thing remains clear – data-driven strategies for HockeyAllsvenskan have become the beacon guiding the way.
The remarkable partnership with Data Talks is a testament to the league's commitment to understanding its fans and creating unforgettable moments on the ice. The successes achieved through collaboration with Data Talks are not just numbers. They represent a transformation in how HockeyAllsvenskan engages with its audience. And it is just the first step in a long journey.
Onward to a future filled with puck drops, goals, and the triumph of HockeyAllsvenskan!
björkloven
data talks
dif hockey
hockey
hockeyallsvenskan
modo hockey