User Interface #
Data Talks CDP offers an easy to use, smooth and user friendly interface to get access to your customers' data, create insightful analyses, target the right audiences and act on them through it or with the assistance of other third-party systems.
It consists of four main elements: the main navigation menu, the actual interface, the assistant and the user settings.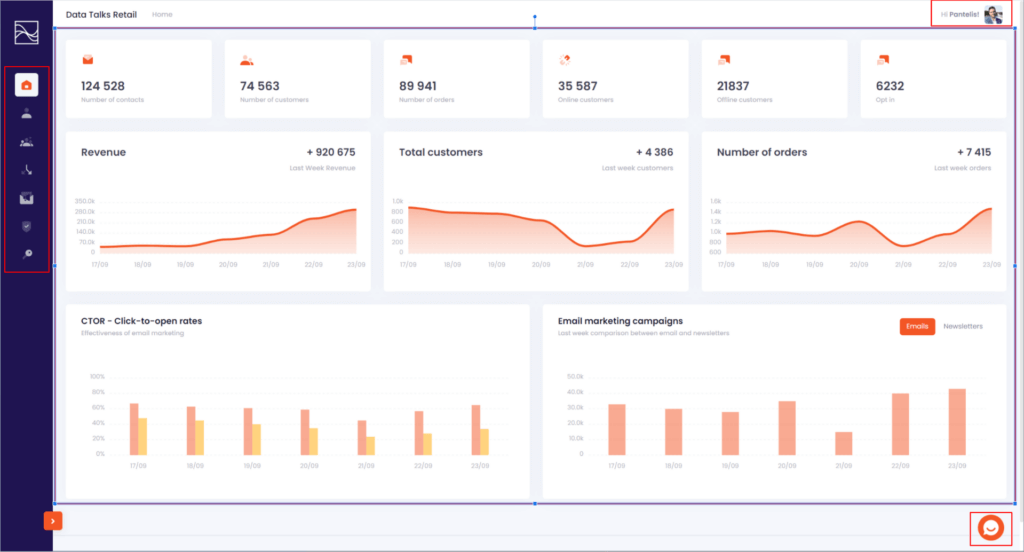 The Main Navigation Menu #
This is the main menu you can use to navigate through Data Talks CDP.

| Feature | Description |
| --- | --- |
| Homepage | This page acts as a Scorecard that holds an overview of your most important KPIs and metrics and how your business is performing on those. |
| Profiles | This feature holds information about all the Profiles that you store in Data Talks CDP together with their Events. |
| Segments | Using our intuitive Segmentation Builder you can create audiences of users with similar characteristics, behavior and preferences. |
| Analytics | With Data Talks CDP you can analyze your customer base and elicit insightful analytics without the need of Data Scientists |
| Email Builder | By using our rich in functionality Email Builder, you can create personalized Email communication to target your customers without HTML code knowledge. |
| Admin | You can manage your Organization, the Users, Roles and other important stuff through the Admin pages. |
Main Navigation Menu
The actual interface #
This is your workspace and you can use it to analyze, target and act in your customers.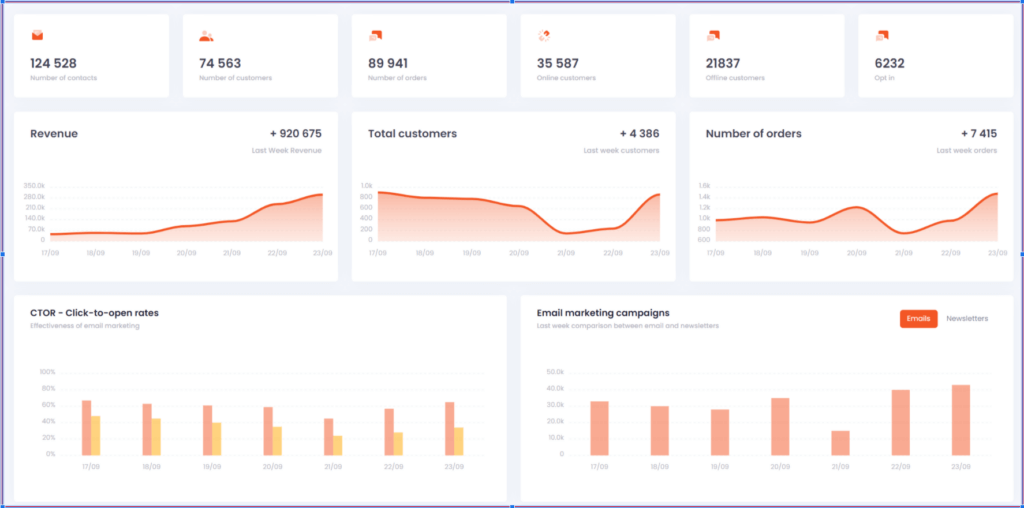 Data Talks CDP Assistant #
By using the Data Talks assistant in the bottom right, you can always have access to the Tutorial and to Feedback form.
With the Tutorial you can follow a step by step walkthrough guide to get familiar with the Data Talks CDP app and its capabilities. It is recommended as it is extremely quick but quite comprehensive and it will give you a great boost.
By using the Feedback form, you can tell us more about your impressions with specific features, ideas to improve, if the feature meets your expectations or not and if you encountered any issues while using the feature.
User Settings #
Last but not least is the User Settings panel. You can use it to change your Avatar, your name or your password, check pending invites to join new organizations, or see all the organizations you are a user and switch easily and quickly between them without the need of logging out of the application.