Data Talks CDP is constantly evolving to serve our customers in the best way possible. On this page, all of our releases will be listed together with the date of the release. You will also be able to find more information under each release about the improvements that affect your experience in the CDP.
Release v1.27
Released: 12.04.2022
Segment Builder – Changing time of recalculation
With this release, you will be able to change the time of recalculated segments even after the first time the segment has been calculated. This means that you will be able to decide flexibly when you want a recurring segment to be recalculated with new profiles.
Triggered Actions – Previously triggered campaigns
After you've used the Segment Builder to trigger campaigns you can access the history of the previously triggered campaigns. We've made this easy for you by adding a Triggered Actions to those segments that have been used to trigger campaigns. In this tab you can see all previous campaigns that have been triggered by the specific segment you are viewing.
Release v1.26
Released: 04.04.2022
This release contained several general improvements to the overall performance of the application.
Release v1.25
Released: 28.03.2022
Segment Builder – End-date functionality
If you want to create a recurring segment that only runs a specific time period, you can now specify this in the Segment Builder by enabling the End Date and Time. Simply define when you want the segment to stop running and it will not be recalculated after this date and time.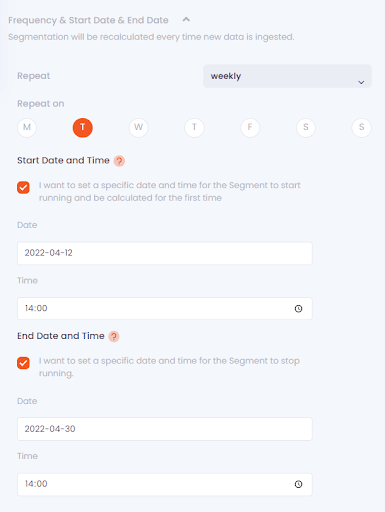 Segment Builder – Invalid dates
When selecting start and end dates for recurring segments, you won't be able to accidentally pick invalid dates as they are automatically disabled. 
Segment Builder – Editing segments once they have been calculated 
You'll be able to edit segments after they have been calculated as well. This means you can edit your recurring segments whenever you want to.
Email Builder – Templates used in previous campaigns
When you're creating a new campaign you can now also use the templates you used in previous campaigns, by adding them from the "Previous Campaigns" section. This means that for instance if you want to create a new campaign but with a similar template, you can add the previously used template and just change a few details.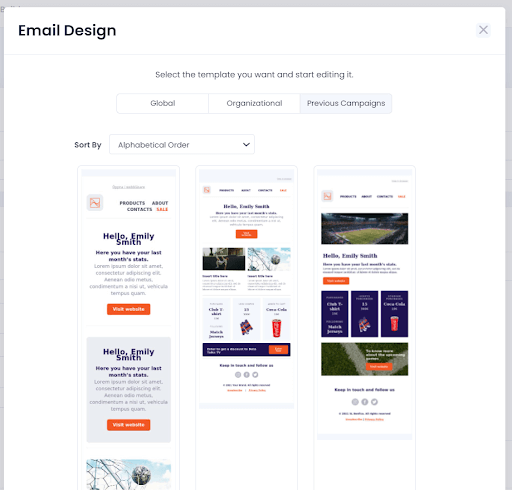 Release v1.24
Released: 22.03.2022
Email Builder – Unsubscribe block added to template
In order to add the unsubscribe link to an email template that you have created from scratch, you can add it by dragging and dropping the "Unsubscribe" block, available in the Open Blocks tab. 
Email Builder – Distinguishing email template changes
If you want to discard changes you have made to an existing template in the Email Builder, you can click "Change Template" and opt to use the same one (but without the changes you made) or select a completely new template.
Release v1.23
Released: 07.03.2022
Email Builder – Optional confirmation email
After each campaign is sent, you receive a confirmation email to inform you that the campaign was successfully sent. If you do not want to receive these confirmation emails, you can opt-out of receiving them. Contact your Customer Success Manager to deactivate receiving these notifications.
Email Builder – Personalization fields in the subject line
To make your email campaigns even more personalized, you can add personalization fields in the email subject line. Click the icon marked below and choose from the range of personalization fields available to you.
Release v1.22
Released: 27.02.2022
Segment Builder – Triggered Actions[NEW]
With Triggered Actions you will be able to rule-based email campaigns directly from the segment you've created in the Segment Builder. This means you'll create fully automated campaigns that are sent according to a set frequency.
After you've created your segment, you can decide if the conditions in the segment also should trigger an email campaign to the profiles in the segment. In order to activate this you need to do the following:
Create a segment.
Decide if the segment is a one-time (ad-hoc) segment or a recurring segment. This will impact how often the triggered email campaign is sent.
If you create a one-time segment you simply choose when you want the email campaign to be triggered (this can be anytime after you have created the segment).
If you've created a recurring segment, the triggered email campaign will reflect the frequency of the recurrence of the segment. If you've set the segment frequency to daily this means it will trigger the email campaign daily. 
If you want to stop sending a triggered campaign, you need to deactivate the campaign by editing the email campaign (not the segment) and disable the toggle for "Is this email ready to be sent".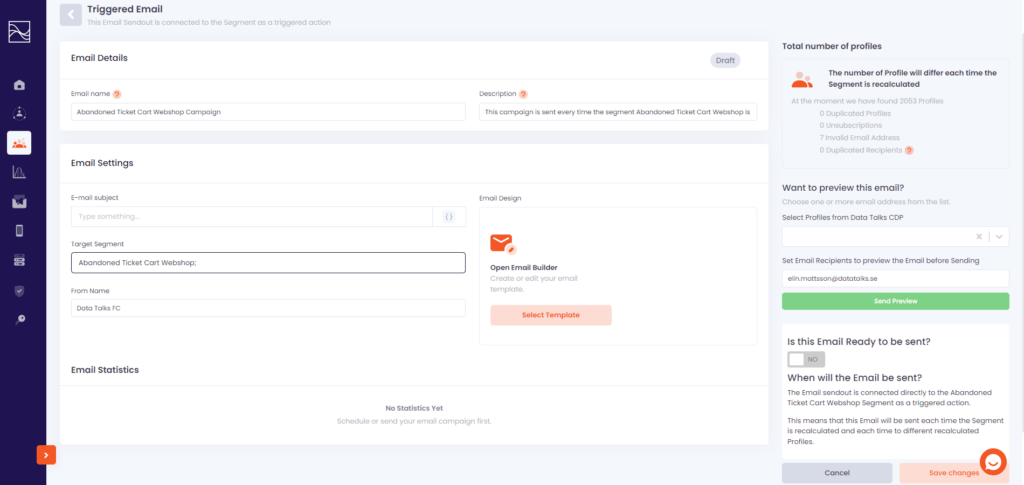 Email Builder – Duplicates
In the case of multiple profiles sharing an email address, for instance a family email address, users now need to decide how to handle these campaigns when duplicate addresses appear. Before this improvement, the people that were included in a segment received the newsletter as many times as the email address was included in the segment. Now you are prompted to decide how to handle this in a pop-up window with two alternatives:
Send email to all profiles
Send email one-time per email address
SMS Sendout – Unsubscribe link
When creating an SMS campaign you need to ensure that the recipients can unsubscribe from your SMS campaigns if they wish to do so. This is now easier than ever. You simply add an unsubscribe link in the SMS text box when you create your campaign by clicking the icon marked below. Your recipients will be able to click this link to unsubscribe themselves from marketing messages.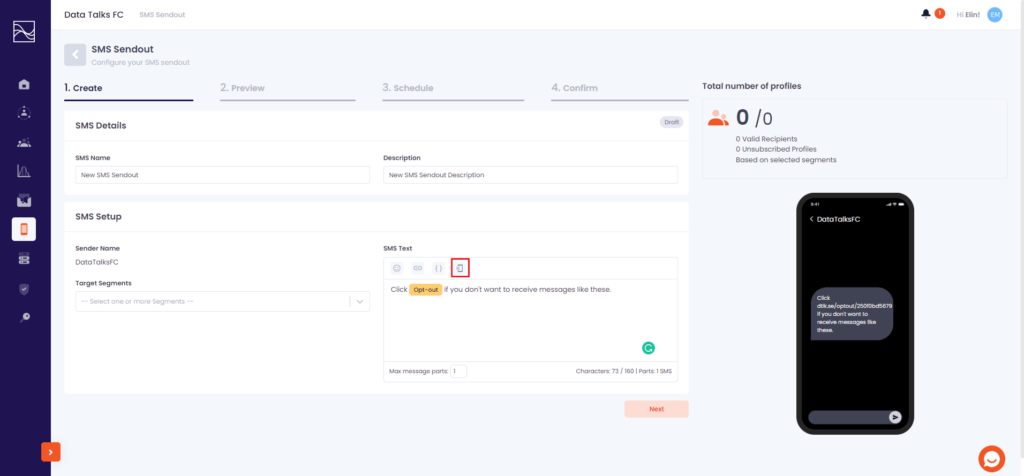 Release v1.21
Released: 17.02.2022
Segment Builder – New refresh button
A new refresh button has been added to Segmentation under the Admin pages. If you want to refresh the segmentation information and aliases you simply click this button and it will sync with your data in the database, which previously had to be done by contacting your Data Talks administrator.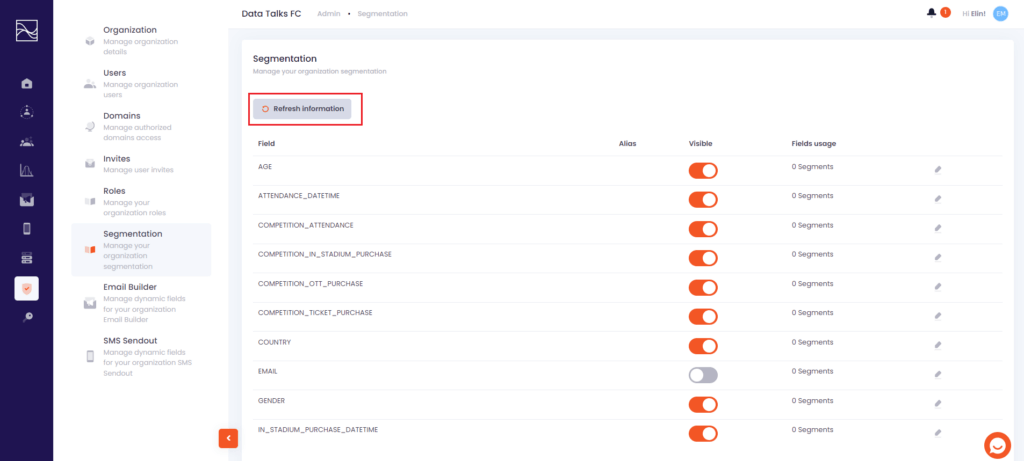 Email Builder – Default values in dynamic fields
When creating an email campaign you can add dynamic personalization fields to make your campaign more compelling. You can add a default value in these fields if you do not have data to populate it with.